Our Age-Specific Kids Martial Arts Classes Can Impact Every Aspect Of Your Child's Life
Are you looking for a great way to build your child up with vital character skills and incredible self-confidence?
Are you hoping to keep them active and help meet a great group of new friends?
Are you interested in setting your child up for lifelong success?
Then you've come to the right place. At Leadership Taekwondo here in West Jordan, our Kids Martial Arts program is built on the renowned SKILLZ system, offering age-specific instruction for students from ages 3 through 14. Students 15+ are invited to join our Teen and Adult Martial Arts program.
Learn more today by simply filling out the short form on your screen!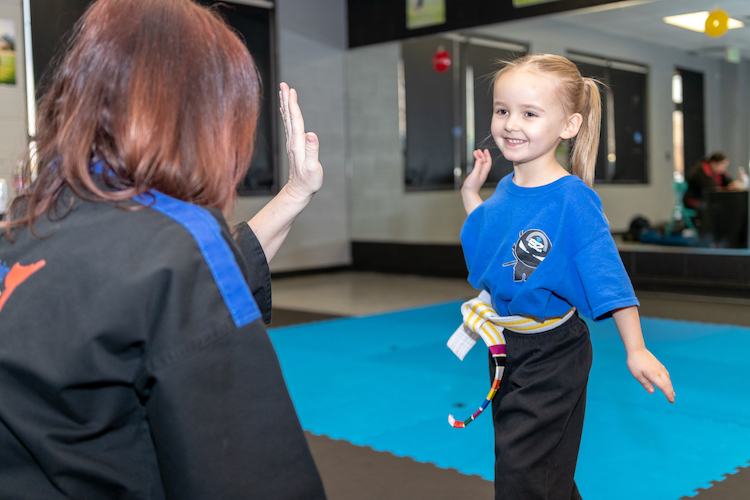 Our Kids Martial Arts Classes Truly Have Something For All Ages And Abilities
At Leadership Taekwondo, we know that no two students train the same. They all learn and develop at different paces. And we're here to offer a system where they can all find success.
Our Kids Martial Arts program is broken down into age-specific classes that use the SKILLZ training system to offer developmentally appropriate classes for everyone!
Join us here in West Jordan today for:
Early SKILLZ (Ages 3-4): The Early SKILLZ system is all about introducing your child to fundamental tools like how to listen, focus, and follow directions. We offer a safe, exciting environment where your child can take on basic physical challenges and quickly learn:
Physical SKILLZ (Kicking, Hopping, Crawling)
Intellectual SKILLZ (Counting, 2 and 3 step directions, Spacial awareness)
Social SKILLZ (Respect personal space, Use words to express themselves, Turn-taking)
Emotional SKILLZ (Handling frustration, Trying new things, Overcoming fears)
---
Basic SKILLZ (Ages 5-6): This class is the perfect opportunity to teach your child important character traits like respect, discipline, and teamwork. We help our student have fun challenging themselves every day as they take on:
Physical SKILLZ: (Body control, Balance, Fitness)
Intellectual SKILLZ: (Focus, Memory, Coordination)
Social SKILLZ: (Teamwork, Sportsmanship, Raising their hand)
Emotional SKILLZ: (Discipline, Respect, Confidence)
---
Core SKILLZ (Ages 7-9): As your child continues to grow and develop, we work hard to introduce them to important qualities like perseverance, courage, and concentration. We build these students up with increasingly difficult challenges and help them learn:
Physical SKILLZ: (Speed, Agility, Flexibility)
Intellectual SKILLZ: (Concentration, Perseverance, Retain information)
Social SKILLZ: (100% effort, Understand "you don't always win", Supportive of others)
Emotional SKILLZ: (Intensity, Perseverance, Courage)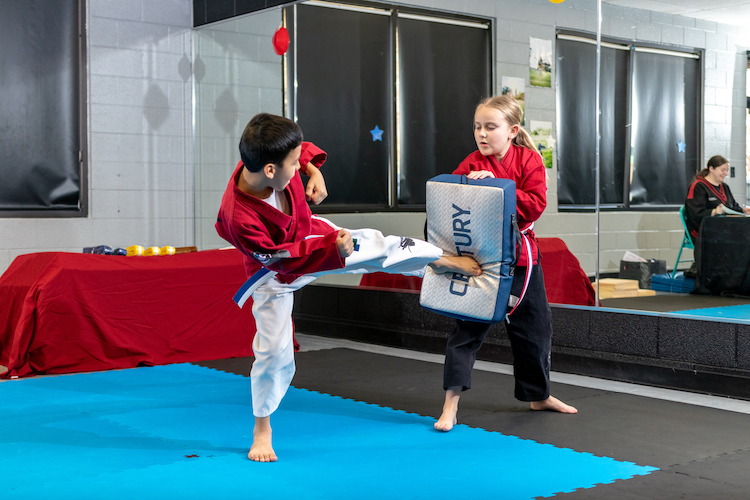 ---
Extreme SKILLZ (Ages 10-14): As your child heads toward their teenage years, we want to build them up with everything they'll need to thrive. This system focuses on each child's resiliency, decision making, and goal setting. In no time, your child can learn:
Physical SKILLZ: (Dexterity, Momentum, Strength)
Intellectual SKILLZ: (Precision, Versatility, Apply focus and effort)
Social SKILLZ: (Empathy, Maturity, Good decisions under pressure)
Emotional SKILLZ: (Motivation, Resiliency, Goal setting)
Join Us Today For The Best Kids Martial Arts Classes In West Jordan And Beyond!
Don't miss out on everything we have to offer here at Leadership Taekwondo. We're helping students all across West Jordan, South Jordan and Midvale find success and we can't wait for your child to be next.
Fill out the short form on your screen to learn more about our Kids Martial Arts classes today!